oakleys bistro
Welcome to OAKLEYS bistro.
Food is our passion and sharing it with our guests is our joy. Our menus, wine selections, products, classes, signature events and partnerships reflect the careful consideration of our experienced, professional team.
We love what we do and it shows. See for yourself…
Hours
---
Lunch
Tuesday – Saturday 11am -1:30pm
Dinner
Tuesday – Thursday 5pm -9:30pm
Friday – Saturday 5pm – 10pm


---
Reservations are suggested.

Steven J. Oakley
Chef/Proprietor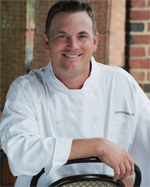 It's commonly thought that you know you've found your life's calling if you'd do your job for free. Chef Steven J. Oakley personifies that idea. His career began at age 16 when he offered his services to a suburban Chicago restaurant for free: "I just wanted to work, I wanted to learn," says Oakley. That emphasis on hard work and continual learning has culminated in Chef Oakley arriving at the top of his profession in Indianapolis.
That structured education didn't temper his need to learn from other chefs in other kitchens and he spent many weekends traveling to New York City to work in some of the most prestigious restaurants in the country, including The Park Avenue Café and Lutece—for free of course. He spent summers back in Chicago where he worked at the famous Charlie Trotter's. Following a brief stint at the Scottsdale Princess Resort in Arizona, Chef Oakley returned home to Chicago where he worked for another landmark restaurant, Printer's Row, and again, Charlie Trotter's.
Benvenuti, a venerable Indianapolis eatery, called him away from the windy city for good. He spent a year there before joining forces with Something Different Restaurant in 1993, where he spent nine years receiving many accolades including nominations for the prestigious James Beard Rising Star Chef's award and the restaurant's induction into the Restaurant Hall of Fame.
And now, as Chef/Proprietor of OAKLEYS bistro, which he established in December 2002, he is living his childhood dream and hoping to help others do the same. An unpretentious, neighborhood American bistro is very different from the haute cuisine establishments of Chef Oakley's previous experiences. Put in his words, "We wanted to dispel the notion that special food should be reserved for special occasions: we created an affordable, everyday destination where every meal is a special occasion."
Achieving such recognition as being named "one of the hottest restaurants from coast to coast" by Bon Appétit, receiving the American Culinary Federation's National Achievement of Excellence Award, and "Restaurant of the Year" and "Superstar" from the Indianapolis Monthly Magazine, OAKLEYS bistro reflects its owner's passion for food and sharing it with others. But Chef Oakley's sharing goes beyond the traditional, evidenced by the Restaurant & Hospitality Association's Neighborhood Award to "honor restaurant operators who go above and beyond supporting their communities." The Association specifically recognized that not only does Oakleys bistro contribute a portion of its sales of products to Second Helpings, Indianapolis' only food rescue, job training and hunger relief program, but also Chef Oakley opens his kitchen for training and hiring those who demonstrate a true passion for food and who understand the demands placed on a first class kitchen team.
From capturing first place at the Food Network - Simon Mall's "Super Chefs Live" competition and being invited as a guest chef for Cakebread Cellars' American Harvest Dinners and Epcot's International Food & Wine Festival to being named one of Indy's Best and Brightest by the business community and honored for the past several years as a semifinalist in the James Beard Foundation's Best Chefs in America Awards, Chef Oakley most cherishes the accolades from those who join him and his Team for lunch and dinner at OAKLEYS bistro.
When asked to what he attributes his success, Chef Oakley responds, "You have to love what you do." He does -- and it shows.
---
Chef For A Day!
No matter what your cooking skill level, from the curious to the serious, if you want the ultimate hands-on kitchen experience, consider becoming an OAKLEYS bistro Chef For A Day. Your experience includes: assisting the Kitchen Team with the essential morning prep for the day's menus, engaging in and learning through culinary chatter, observing first hand the true "magic" of an award-winning professional kitchen, receiving your official OAKLEYS bistro apparel and returning later to savor and share your day's experiences during a three course dinner for you and a guest! OAKLEYS bistro's Chef for a Day is the perfect gift for someone special...including yourself! $200
To schedule your Chef for a Day, call us at 317-824-1231 or email us at info@oakleysbistro.com.
---
Tuesday Tasting
Join us on most every Tuesday evening from 5-6pm for our TUESDAY TASTING when different wine representatives feature several wines for a casual, informal complimentary tasting and education...a great place to greet old friends and meet new ones.
---
Signature Dinners
Our Signature Dinners give Chef Oakley and Manager/Sommelier Chris Hopkins a chance to match their culinary genius and wine wizardry in presenting exceptional dinners where the freshest of flavors are perfectly paired with wines from exciting vineyards around the world. We schedule these dinners with the vintners' availability and times when they have a special wine or vintage to share with our guests.
Check our latest newsletter for coming Signature Dinners. "What's Up" is our periodic e-newsletter which features upcoming events as well as our latest news. Our e-mail friends are always the first to know, so if you aren't already on our periodic email newsletter roster and would like to be, send us a request with your email address to info@oakleysbistro.com.
---
---
Second Helpings
We have partnered with Second Helpings since we opened our doors in December of 2002. Central Indiana's only food rescue, job training and hunger relief organization, Second Helpings' mission is to "safely utilize rescued food to educate and train adults for positions in the culinary field and to distribute nutritious meals to shelters for the disadvantaged." From training and hiring students and, when possible, providing equipment and food to assisting in events and activities, we support this phenomenal program. A portion of the sales of our seasonings also goes directly to Second Helpings.
---
Learning Lunches
As part of our partnership with the Metropolitan School District of Washington Township, we host "Learning Lunches" for students selected by our neighboring schools. Prior to leaving their school, the students learn the art of meeting and greeting people which they practice when they arrive at the restaurant by meeting Chef Oakley and his Team who treat them to a behind the scenes look at their kitchen. Without exception, peeking into the walk-in cooler seems to be the biggest hit! As each of the four lunch courses is served, the students learn and practice proper etiquette taught by explaining and demonstrating that most etiquette rules were made for a reason…making manners make sense. From trying freshly prepared soup to devouring such desserts as Warm Chocolate Brownies with house-made caramel corn, we're not sure who has more fun, the students who are eating or the staff who is serving!
---
Special OAKLEYS at HOME Deliveries
Wanting to share our food with our neighbors for more than just the holidays, we approached Washington Township to see whether they would be willing to identify families who, for many reasons, might appreciate an OAKLEYS at HOME carry-out dinner. Since 2004, we have been delivering meals to families selected by Washington Township schools on arranged Friday evenings. Assuring privacy, our kitchen staff is apprised of each family's size, ages and circumstances so that they can prepare the meals accordingly. Families are notified when the meals will be delivered and the school's designees deliver the hot meals with lots of excitement and appreciation from both sides.
---
Tastings
---
Join us on most every Tuesday evening from 5-6pm for our TUESDAY TASTING when different wine representatives feature several wines for a casual, informal complimentary tasting and education…a great place to greet old friends and meet new ones.
---
Catering
---
OAKLEYS bistro offers catering services!
---
September Signature Dinner
---
SEPTEMBER SIGNATURE DINNER
FEATURING
GORDON ESTATE WINES
Tuesday, September 27, 2016
6:00 pm - $85 (plus tax & gratuity)

Family owned and operated since 1985, Gordon Estate has continually produced premium quality wines exclusively grown from their estate's grapes along the confluence of Washington State's Snake and Columbia Rivers.  Trigg Radel of Monarch Beverage will present 5 wines from the Gordon Estate portfolio that Chef Oakley has perfectly paired:


~ Reception ~

Passed Hors d'oeuvres

Rosé

~ First Course ~
Fall Pear & Goat Cheese Soufflé
king crab / espelette marmalade / cider vinaigrette / hazelnut popcorn /  arugula
toasted poblano pepper

Chardonnay

~ Second Course ~
Pecan Stuffed Smoked Pork Meatballs
crispy polenta / blackberry jam / herbs de provence crème fraîche

Merlot

~ Third Course ~
Wild Mushroom Strudel
coffee spiced chicken confit / sunday gravy / pickled butternut squash

Syrah

~ Fourth Course ~
All the Parts of "Duck Cassoulet"
dried fig molasses glaze / duck fat almond / frisée salad

Cabernet Sauvignon

~ Fifth Course ~ Apple Brie Tart
pumpkin seeds / maple thyme cream




Call or email Chris:

√ MARK YOU CALENDAR & MAKE YOUR RESERVATIONS
for our
OCTOBER SIGNATURE DINNER
Tuesday, October 11th at 6pm
Featuring wines from
DREYFUS ASHBY
with Allison Henricks and Mark Kalachnick of RNDC

 
REMINDERS.


Enjoy a 5-course tasting menu exclusively prepared for up to six guests:  $55/person Call for details and to reserve your time.
Join us on most every Tuesday evening from 5-6pm for our TUESDAY TASTING  when different wine representatives feature several wines from around the world for a casual, complimentary tasting...a great place to greet old friends and meet new ones!
Be our Chef for a Day including working side-by-side with and learning from our award winning Kitchen Team then returning for a 3-Course Dinner for you and a guest to savor your day's experiences. $200 (alcohol, tax & gratuity not included)
We can help with your entertaining needs at OAKLEYS bistro or at a place of your choosing.
We offer regular and customized gift certificates with pictures, logos, messages, etc. for any denomination.
Many of our house-made spices, rubs, stocks, soups, salad dressings, etc. are packaged for your OAKLEYS AT HOME use.
Most of our menu items and wines by the bottle are available for carry out.